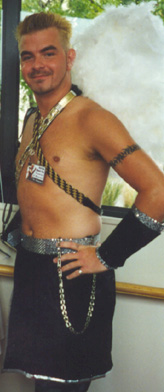 Mr. Jamester
aka Cupid
aka Ares
aka President of Xenaversity of MN
aka James Gottfried
aka huge Xenite!
Eyes: Hazel
Hair: Dishwater blond
Height: 5'10, Weight: 175lb

Hobbies: Website design, surfing the net, rollerblading, music, PlayStation, Xena (of course), Star Trek, Buffy, Halloween!
Family: 7 Year Old Son - Cory (also Xena obsessed!), partner Todd Allen
Until this past year, I would've considered myself a simple fan of Xena, Warrior Princess. It all really started in April of 1998 when I was contacted by Beverly Gores to join/help build a local fan club in Minneapolis, thus was born the Xenaversity of Minnesota. We created a name, started monthly meetings and it hasn't been the same since. I've met TONS of awesome people because of this club and I wouldn't change it for the world!! Thanks for being obsessively intriguing!