The Cupid Scrolls
(The Cupid Scrolls)

I've been lucky enough to have been enchanted by some very lovely mortal women. As charmed as I was, I could not help but want to touch their lips once with mine and have a moment of bliss with each of them.
CLAIRE STANSFIELD
My first encounter was with Claire Stansfield. In my mortal guise of Mr. Jamester, I was offered as a gift to Claire for her birthday, a kiss anyways. Claire looked at me in that 'Alti' way and said "Come here big boy." I was entranced. I practically flew upon stage and headed directly for her face at a slow pace. I meant to give her a kiss on the cheek, but she never turned her head, so right on the lips it went. My bodyfilled with tingles as I turned away so she didn't see my blush and I leapt off the stage, almost giving myself away by flying over the crowd. Instead, I landed and only floated partially off the ground and directly out of the room.
JACQUELIN KIM
After getting over that encounter, I thought I'd try for 2 out of 2. Jacquelin Kim was making her first con appearance and that following Sunday, I got in line to ask her a question. When it was my turn, I was speechless. She said "Aren't you the one who won the costume contest?" I replied with a yes. I then mentioned I had given a kiss from Cupid to Claire, and I'd like to do the same for her! She accepted and again I gave another star a kiss on the lips. The crowd went wild. My adrenaline streamlined through my body and I again floated inches above the ground.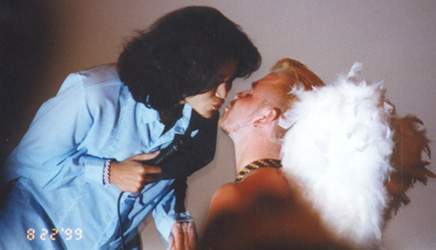 Now I had created a reputation in a place called Cherry Hill of all places :)
DANIELLE CORMACK
My next venture with indescribable beauty was when I came across the path of Danielle Cormack. We were in the windy city of Chicago and she was there with Claire Stansfield. It took quite a while, but I finally built up the nerve to ask her for a kiss. Luckily, her birthday was around the corner and I used that as a diving board to smack right into her lips. But this time, I thought, out of respect, I'll simply kiss her on the hand, so I did. The applause overwhelmed my senses as she smiled feverishly behind me.... wow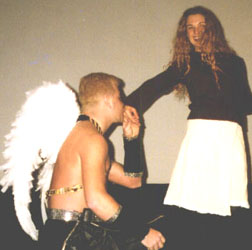 ALISON WALL
The intimacy doesn't end there. Now I'm on a mission. I have decided to make it my goal to kiss the hand of every lovely lady who has appeared on Xena! Next stop. Pasadena, California! Unfortunately, this weekend in Pasadena was jam packed and there was little time to think. I only got one kiss during this trip, but trust, me it was enough! The person I was probably most excited to see was Allison Wall, aka Minya! I got into line to ask her a question and she just left me in awe. I told her that she was one of the very first characters I had seen on Xena that made me want to continue to watch the show (besides Xena & Gab of course) She was thrilled and I took the opportunity to ask her hand for a kiss. She invited me on stage and I got down on the traditional one knee and kiss her hand! Ahhh...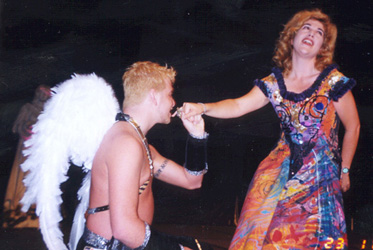 ALEXANDRA TYDINGS
Now the most awkward kiss I've given was the most recent one. I did a road trip to Michigan to see the one and only Alexandra Tydings! In Xena terms, Cupid's mother. I was so in awe of her great personality and needless to say beauty that I forgot all about asking for a kiss. When the thought did hit me, my first reaction was... ewww, my mother. But it was only on the hand. Now I needed an invite of sorts, and I got it. During Alex's panel, she told me to stand up and show off my Cupid costume because it was really good. I was embarassed, but I told her I'd do it if she allowed me to give her a kiss on the hand. She accepted and in classic style, I gave the goddess a kiss on her hand. That was so COOL! What a sport.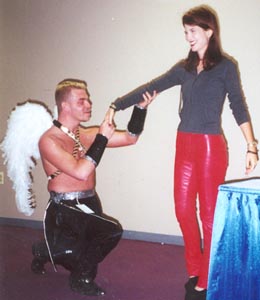 EBONIE SMITH
Ebonie Smith is just about the sweetest actres I've ever met. She was just as excited to meet her fans as they were to meet her! I had actually met her in Pasadena but through all the hustle and bustle, I never asked for the trademark kiss on her hand. But the fates allowed me another chance to see the Ebonie Princess here in my hometown of Minneapolis!!! I didn't wear my normal Cupid God of Love costume, but my Cupid God of War costume. But I thought what the heck and I asked for her hand for a kiss from Cupid. She accepted graciously! Let's just say she gave me Fever!! I'll be lucky enough to see her in Cherry Hill, NJ too!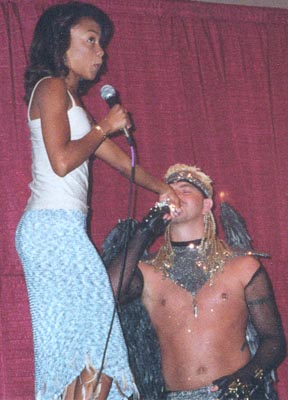 ADRIENNE WILKINSON
I went up stage to ask Adrienne a question about who her role models were. But of course I had to follow that up with a request, the Cupid kiss. She accepted no problem and even kicked up her foot behind her while I kissed her hand. She said "Who could refuse a kiss from Cupid?"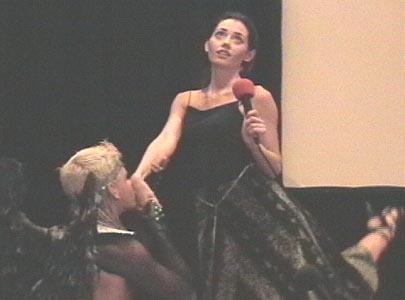 MEG FOSTER
Even though Hera cursed Cupid on the Hercules episode Green Eyed Monster, I still felt comfortable enough to ask the beautiful and enticing Meg Foster for a KISS FROM CUPID. She gave me a Hera look and gave me her hand. I kissed it and thanked her. She looked at me and said "Hera could just eat you up!!" I was really flush and walked back to where I was standing... whew!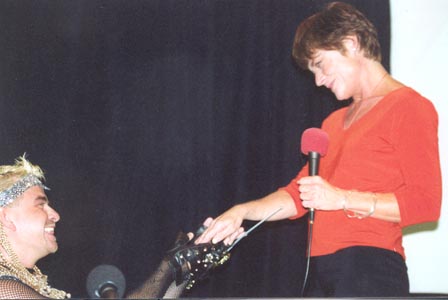 HUDSON LEICK
Well, Cupid's charm was almost vanquished during an attempt at a kiss for Hudson.
In an attempt to not be repetitive, I tried to ask for the kiss in a different way this time.
I tried to bring up that she inspired in Mpls a couple years ago and I was wondering
if Hudson was a better kisser than Claire. But she turned it around on me and said Claire
is a better kisser.... I was dumbstruck, but I continued by asking for a kiss on the hand anyways !!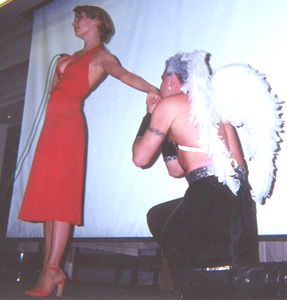 But after trying to embarrass Hudson, she got her revenge and
snuck me a kiss on the cheek at the breakfast!! Talk about floored! What a gal!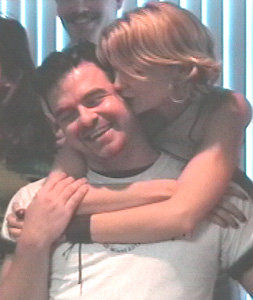 WILLA O'NEILL
I had missed my opportunity in Pasadena to ask Willa for a kiss, but I had a chance to rectify that!!
I had asked her beforehand if it was ok to ask her while on stage and she said no prob. But when
I went up to kiss her on the hand, she pointed to her cheek instead, so what's a guy supposed to do??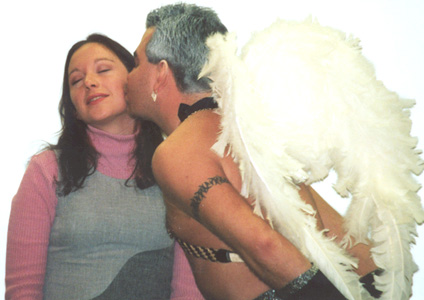 VICTORIA PRATT
Incredible! Bold! Outstanding! What can I say?? "Sarge" really knocked me for
a loop. I had hung out with her all weekend and felt a little odd about asking
for a kiss (didn't wanna seem too FANNISH) but even though I was wearing
the Ares costume (leather pants she loved!) I asked for a kiss anyways, and I
even got a hug afterwards... awwww..
NOW, I HOPE THAT THE BEAUTIFUL LADIES THAT I'VE HAD THE PLEASURE OF MEETING AND KISSING NEVER FEEL UNCOMFORTABLE WITH THAT KISS. MY INTENTION IS FULL RESPECTABILITY AND JUST MY WAY OF THANKING THEM FOR GRACING US WITH THEIR BEAUTY!
Keep your eye out for the ever surprising Cupid and see if he ever gets the opportunity to give Lucy or Renee a kiss on the hand!!