Where Did I Get The Name Mr. Jamester??
I've been called a lot of tings in my life time, but it wasn't until about 5 years ago that I obtained the name Mr. Jamester. I got the nickname from a friend of mine, Chad. The thing at the time was people adding -ster to other people's name, like Chadster, Philster, etc. So Jamester was born. I had always called Chad by the nickname Mr. Chad too, so thus came Mr. Jamester. Once I became internet savvy and got internet access, I created the email mrjamester@aol.com. Once I joined the Xenaversity of Minnesota, I introduced myself as Mr. Jamester and it has been that since then.
My actual name is James Keith Gottfried. Where my parents got this 'nickname' from is beyond me, but my entire family calls me Toby. Quite a open invitation to teasing during school I assure you, but I decided to go by my given name and started going by James in High School. That didn't help much because friends would call asking for James and my Dad or brothers would yell to me "TOBY! PHONE!" My friends got a laugh out of finding that out.
I was born in Indiana, so that makes me a Hoosier. But I never ended up staying in Indiana because my father was in the military and we traveled around A LOT, in the US and Europe. Now that I live in Minnesota, I consider Minneapolis my home town and deny all Hoosier connections :)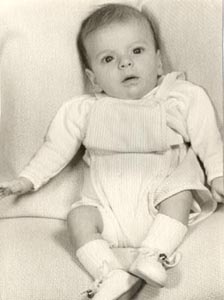 Born 1970
Ft. Wayne, Indiana
Aquarius